Engineering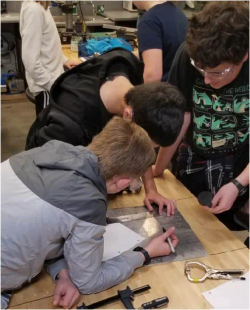 The engineering department is a combination of two subteams which work together to build and design the robot. Prior to build season both subteams hold curriculum meetings to teach members how to operate the shop tools, as well as how to use CAD programs. They also teach basic design processes to the entire team so that everyone is able to help with the final design. During build season the engineering department is responsible for designing and building the robot within the given timeframe. After building the robot, build members are some of the main people in the pit so that they can fix whatever issues may arise during the competition.
Software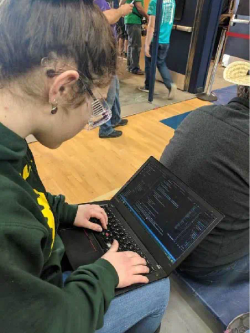 The software department is responsible for writing all the code for the robot. We start by teaching new members how to use Java and introduce them to the tools we use to code, such as VSCode. During build season, we write the code for the robot. This includes not only basic driving and manipulator control, but also image recognition, motion profiling, and more. We also test the robot, making sure that everything works well, before giving it to drive team. The software department also teams up with the engineering department to build the electronics board, which contains the components necessary to power the robot.
Business
The business department has a wide range of responsibilities over the course of the year. To start the year off, the business department focuses on finding sponsors for the team, as well as applying for the many grants which are available to FRC teams. During this time the department also runs a competition within the team for that year's logo. Before and during build season the department processes purchase requests for the different materials that the team needs. Throughout the entire year the business department works with the communications lead to keep communication aligned with the team branding, which the business department also creates and manages.
Strategy
The strategy department is repsonsible for understanding and being experts in the rules of the game, determining how the robot will play the game, piloting the robot during the teleoperated period, and strategizing with other teams on our alliance.
Leadership Team

Build Lead
Anita Simon

Business Lead
Carolyn Kennedy

Communications Lead
Ryan Elbert

Design Lead
Elaine Gao

Project Manager
Norine Bao

Software Lead
Salvo Bonsma

Strategy Lead
Natalie Stanford
Mentors

Karl Ruff
Coach

John Luetke
Coach

James Gladden
Engineering Mentor

Jordan Macias
Engineering & Software Mentor

Guy Nir
Software & Control Systems Mentor

Greg Lauckhart
Software & Programming Mentor

Jacob Erickson
Engineering Mentor

Tim Ellis
Engineering Mentor
Previous Leadership
Charged Up (2022 — 2023)
Captain: Ember Hartell
Communications: Thea Mesling
Project Manager: Norine Bao
Build Lead: Drew Stuart
Design Lead: Burke Havrenek
Software Lead: Linus Skucas
Strategy Lead: Sahar Abid
Rapid React (2021 — 2022)
Captain: Jacob Berg
Communications: Linus Skucas
Project Manager: Anish Gangu
Build Specialist: Ari Snyder
Design Specialist: Reid Estberg
Software Lead: Alex Fischmann
Infinite Recharge (2020 — 2021)
Captain: Quinn Roberts
Communications: Eric Daniel
Project Manager: Athena Crower
Business Lead: Tim Warber
Strategist: Jenelle Ng
Build Specialist: Ari Snyder
Design Specialist: Reid Estberg
Software Lead: Alex Fischmann
Infinite Recharge (2019 — 2020)
Captain: Athena Crower
Communications: Ethan Philips
Project Manager: Quinn Roberts
Business Lead: Tim Warber
Strategist: Jenelle Ng
Build Specialist: Forest Reese
Design Specialist: Corbin Kay-Chapman
Software Lead: Elias Haynie-Gay
Deep Space (2018 — 2019)
Captain: Solomon Doxey
Communications: Margarita Burnett-Thomas
Project Manager: Abbie Ruddick
Business Lead: Nathan Bawaan
Strategist: Ishan Coutinho
Build Specialist: Benny Bruvold
Design Specialist: Bailey Heller
Software Lead: Corinne Herzog
Power Up (2017 — 2018)
Captain: Harper d'Andrea
Communications: Solomon Doxey
Project Manager: Emily Louden
Business Manager: Ethan Philips
Strategist: Julia Bailey
Build Specialist: Josh Stenchever
Design Specialist: Margarita Burnett-Thomas
Software Lead: Alex MacLean
Steamworks (2016 — 2017)
President: Fiona Schaffer
Vice-President: Clyde Westrom
Project Manager: Brendan Murphy
Business Lead: Hallee Olson
Strategy Lead: Matthew Robinaugh
Hardware Lead: Alarik Rask
Safety Captain: Rafael Domingo
Design Lead: Margarita Burnett-Thomas
Software Lead: Alex MacLean
Stronghold (2015 — 2016)
President: Marli Remash
Vice-President: Halle Remash
Project Manager:
Business Lead: Zoe Lawerence
Strategy Lead:
Hardware Lead: Jax Damir
Safety Captain:
Design Lead: Christina Doty
Software Lead:
Recycle Rush (2014 — 2015)
President: Halle Remash
Communications Lead: Nate Spencer
Business Lead: Christa Tebbs
Hardware Lead: Alarik Rask
Software Lead: Aaron Jacobson
Aerial Assist (2013 — 2014)
President: Ben Swanson
Project Manager: Micah Reid
Design Lead: Jacob Olsen
Strategy Lead: Eric Cooper
Software Lead: Aaron Jacobson
Hardware Lead: Jax Damir
Business Lead: Roxanne Trager
Safety Captain: Simon Rockhold
Ultimate Ascent (2012 — 2013)
Administration: Katie van Koevering
Project Management: Max Horowitz-Gelb
Engineering: Adrian Delahunt
Robot Hardware: Ben Swanson
Robot Software: Alex Heilgeist
Business: Roxanne Trager
Rebound Rumble (2011 — 2012)
President / Software: Alex Heilgeist
Secretary: Emma LaMarca
Business: Ben Swanson
Build: Adrian Delahunt